To see some of our current work click... http://www.choppersaustralia.com/forum/viewforum.php?f=60
G'day and welcome to...
The Chopper Shed...
Building choppers and bobbers the old school way... machining, welding and fabricating parts, customising and chopping any make of bike to your specifications...
What do we do?
Well we can take something like this...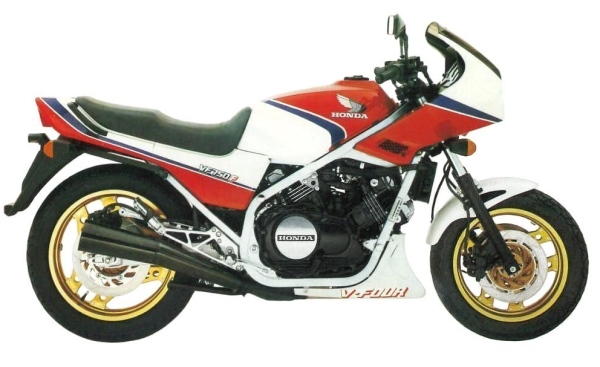 and turn it into something like this....
VF750
Or we can build you a completely new frame, a hardtail...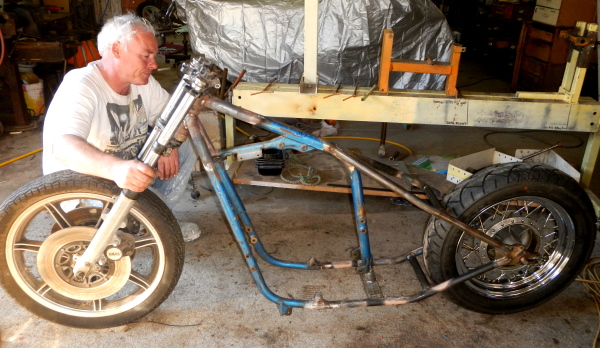 xs650 hardtail plus 3 degree rake...
or anything in between...
But one thing is for sure... our bikes are not expensive jewellery... they are built to ride!
At The Chopper Shed, we do individual creative, quality work, but don't charge exhorbitant houly rates. craftsmanship takes time, but we think the result is worth it.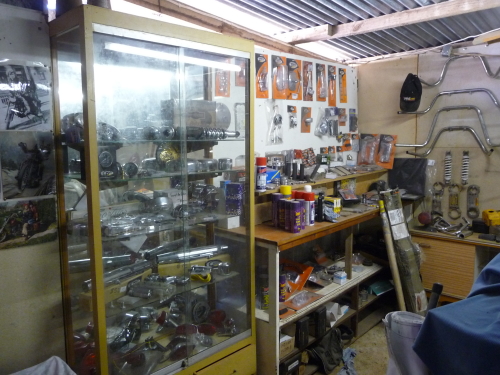 To see the photos larger, click on 200% at the bottom right of your page...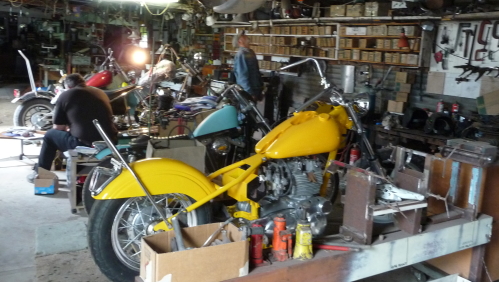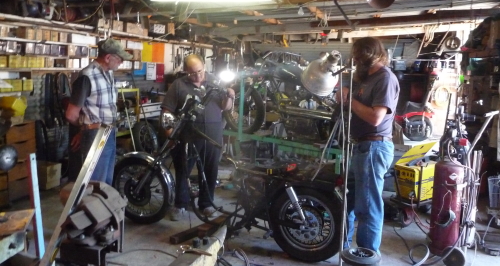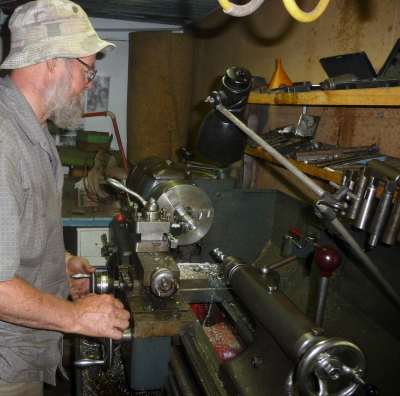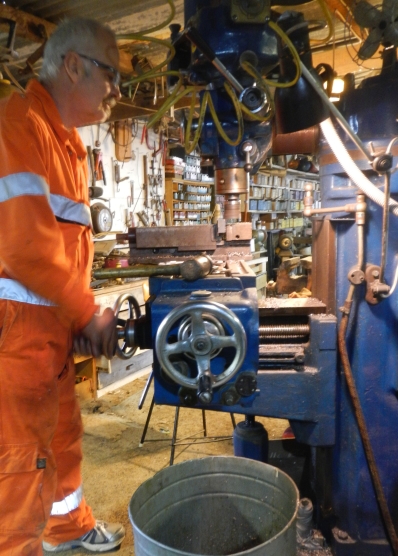 The Chopper Shed helps you build your chopper...
Have your bike (or parts) designed the way you want it... battery boxes, oil tanks, frame & tank modification, brackets, seats, sissy bars, chain guards, wiring, moulding, you name it, engine, wheel and frame alignment, machining, welding. Frames accurately and safely raked. Hard tails and complete frames made for your bike.
We fabricate choppers, bobbers & customs. We work in either stainless or mild steel including exhaust systems.
Your chopper does not need the same wheels or brakes. We regularly swap wheels and brakes to create the style and function the owner wants.
Simplified wiring is basic to a real chopper... and is one of our specialties. Our wiring is designed to be accessable and reliable... for a bike that gets ridden.
We don't do engine or gearbox work, but can usually put you onto someone who does...
We build complete choppers ... supply the bike and we can do the rest or... we'll chop anything no matter what brand or capacity.
... come and work on your chopper under Prof's tutelage. Save a bit of money and learn a lot...
Quality workmanship with an emphasis on safe and strong designs and practical riding that make your bike unique.
Enjoy products constructed from steel... no billet aluminium... you can buy that anywhere.
Our products are made to order, made to fit, made to last... no sloppy "after market" quality
Some choppers from the chopper shed...
1981 Harley Shovelhead...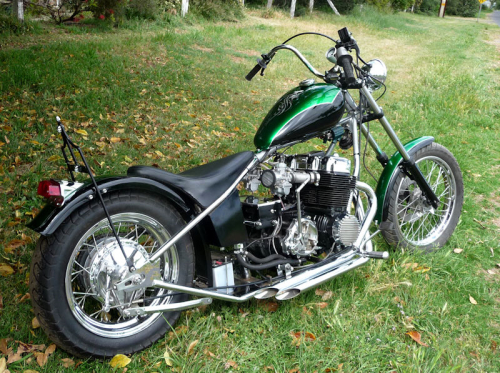 CB750/4...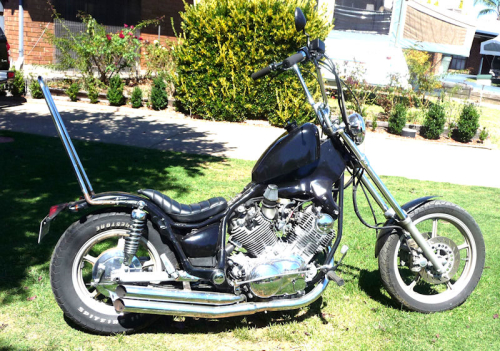 1995 Virago... stretched raked, forwards, downtubes etc
Triumph... complete springer rebuild, seat, pipes forwards, before paint & upholstery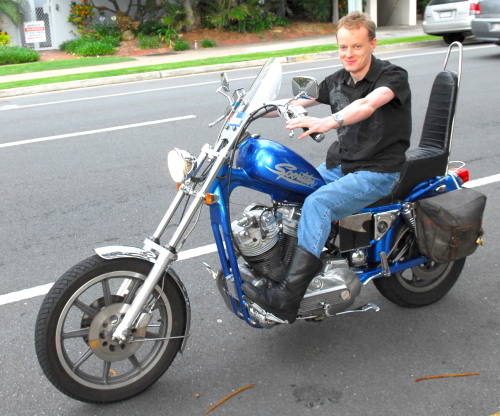 1982 Sportster... rake, moulding, tank, pipes, bars, seat, lots of stainless etc etc... just after a 2000 mile ride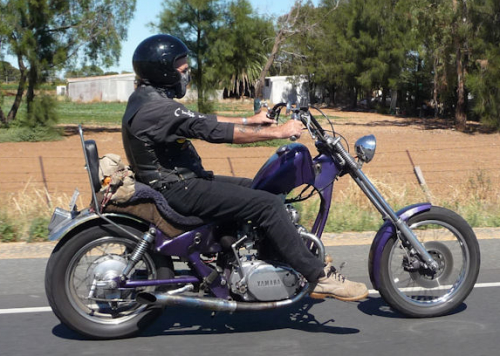 Yamaha XS1... stretched, raked, lowered, doing what a chopper does best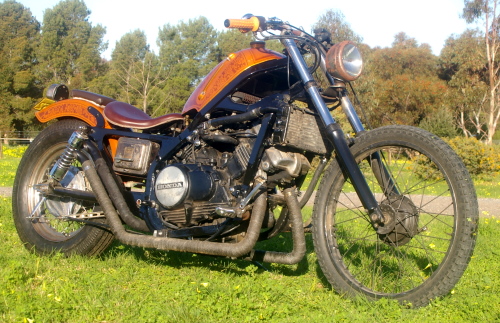 84 Honda VF750... rear subframe, rake, pipes, CB rear wheel, 21" front, electrics, tank, handle bar mounts etc etc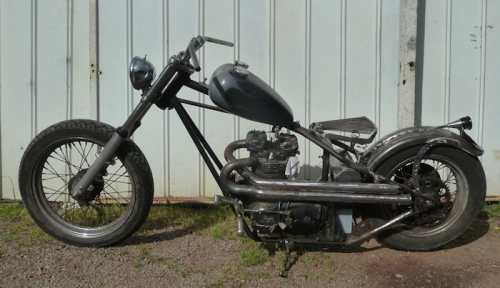 Triumph 750, before paint, upholstery & electrics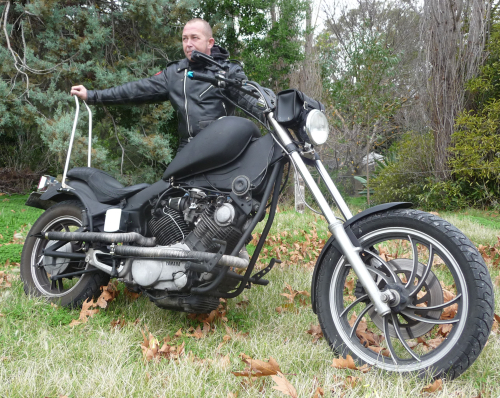 81 XV 750 Yamaha... stretched, raked, pipes, bars, tank, sissy bar,forwards, lowered etc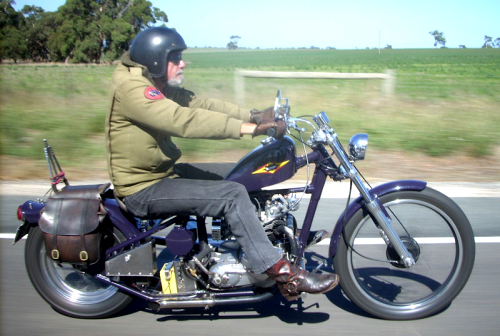 500 Triumph... hex theme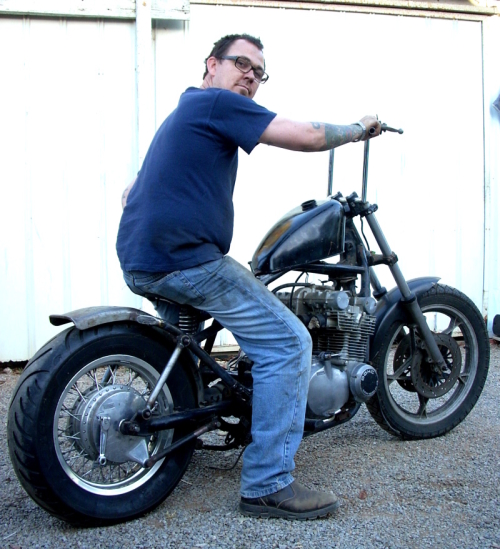 Rear end mods are popular... GS 850 with our single sprung saddle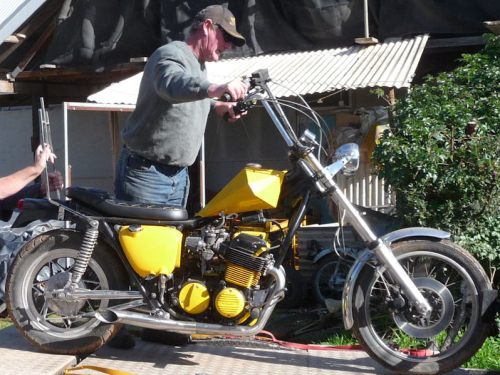 CB 750 TCS rake, pipes & forwards
Trident... seat, pipes, forwards, rear brake, electrics box etc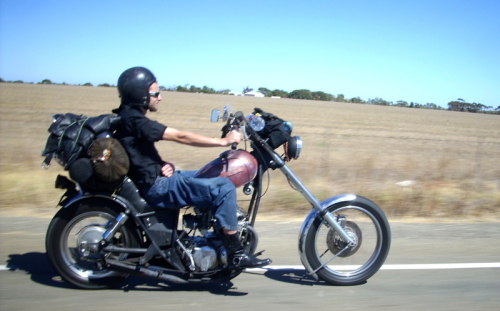 CB550/4... lowered, stretched, raked (45 degrees), a beautiful bike to ride... a righteous classic chopper
Handlebars...
Handlebars made to order, unchromed, welded or bent. We can do any design possible.
Welded and bent handle bars... 7/8" & 1"...
7/8" and 1" Bars can be bent in any configuration. We can also bend up frame tubing for you 7/8, 1", 1 1/8", 1 1/4". We well soon have a tubing roller for gradual frame bends
T Bars...
Classic T...
Classic W...
Holey Bars...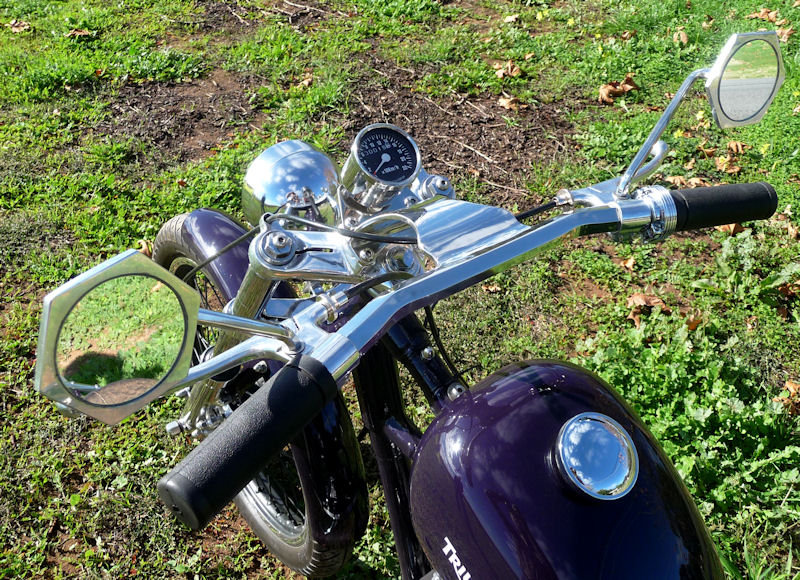 Set of stainless Hexagonal bars and matching aluminium mirrors (all by TCS)...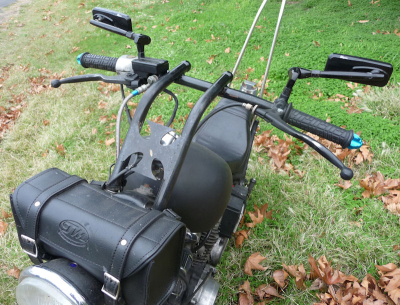 T bars with a difference... temporarily painted
Exhausts...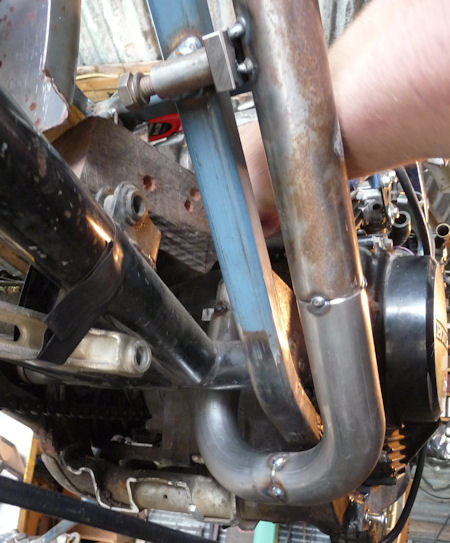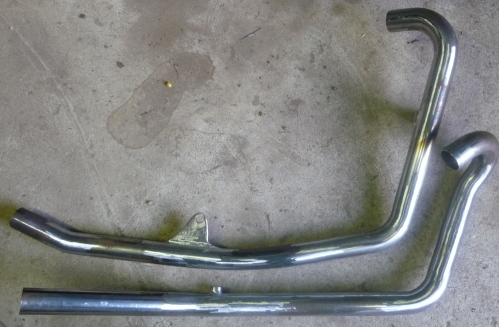 Any configuration you want...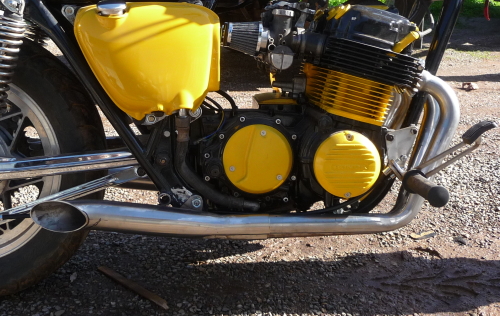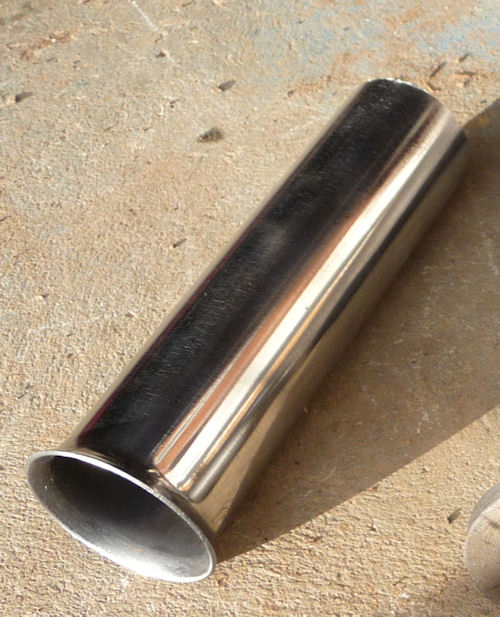 Stainless 4-2 systems Stainless & plain tips...
Slugs (stainless)...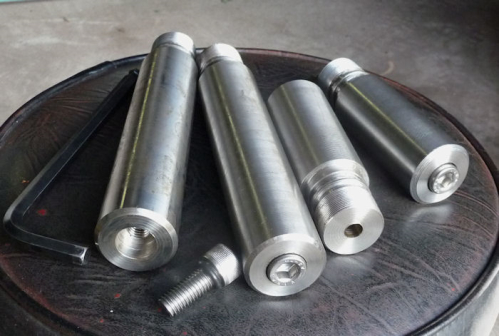 We also do general machining, triple trees, swing arm extensions and other smaller pieces
Unique Brackets...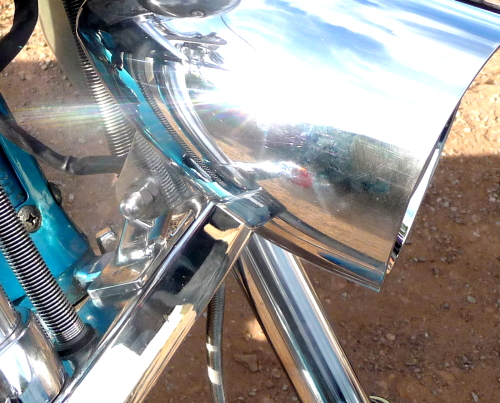 Exhaust brackets... Headlight brackets (Suzuki Intruder)....
Sissy Bars (stainless or mild steel)...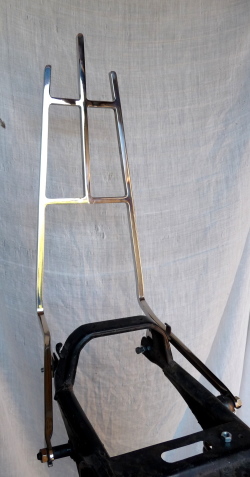 Stainless, quick release classic sissy bar for CB750...
Stainless sissy bar prior to polishing and installation of a part length back pad .
Forward controls...
We love building forward controls to suit your bike and your size... We've built fwd controls for Shovels, Sportsters, Triumphs, Hondas... for short blokes and tall blokes. Moving surfaces reamed to fit, grease nipples included...
XS650 forward control sets... Lever shape can be varied...
Brake illustrated is a heavy duty cable to rear brake drum. Alternative hydraulic lever arrangement made to order. Lever shape can be varied. Bracket length made to order. Zodiac folding foot pegs can be supplied,
Stainless marine fitting at rear brake lever... Longer mounting bolts with spacers and dome nuts supplied..
.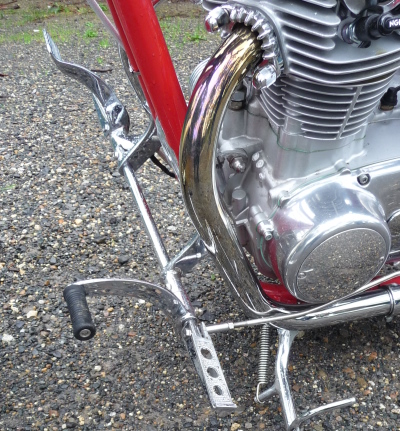 5/8 shaft, reamed fitting, grease nipples (We now use wearlon bushes) brake light switch with wiring
Some more examples of TCS forwards...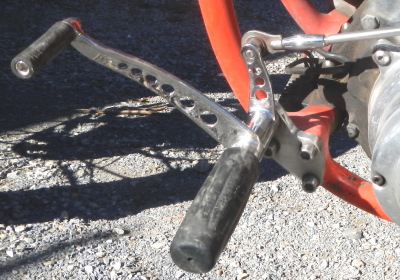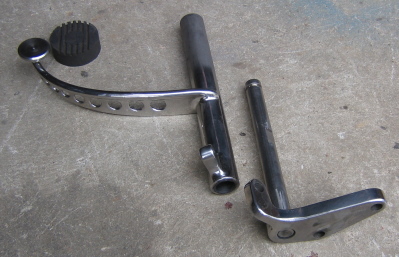 Shovel head gear lever... and brake lever prior to assembly in stainless... footpegs integral with levers...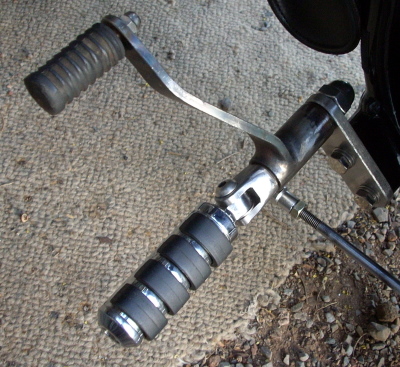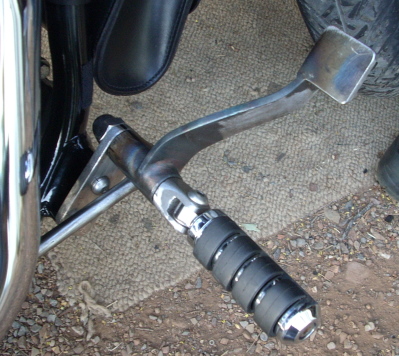 Twin cam gear and brake levers in mild steel before chroming,,, with folding pegs...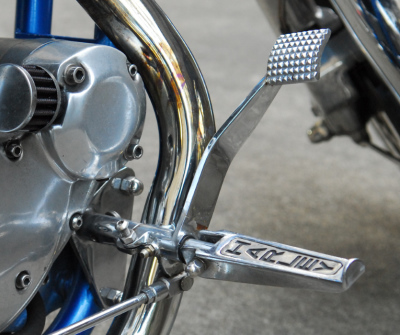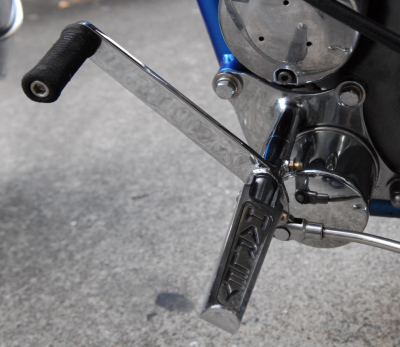 Sportster brake and gear levers in chrome plated mild steel with Anderson pegs...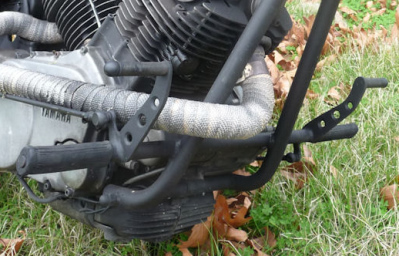 XV Yamaha brake and gear levers in painted mild steel... Virago gear lever in mild steel prior to painting...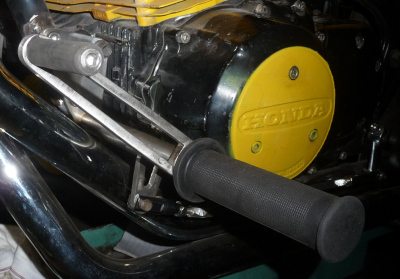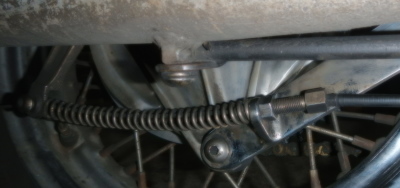 Honda 4 gear lever in stainless... lever integral with foot pegs... rubbers are handgrips... cabledrum brake, rear mounting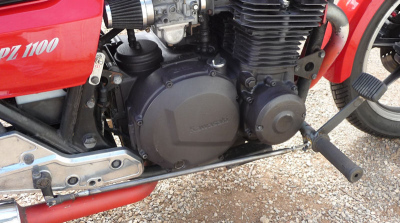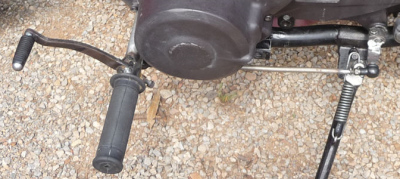 Kawasaki brake and gear levers in painted mild steel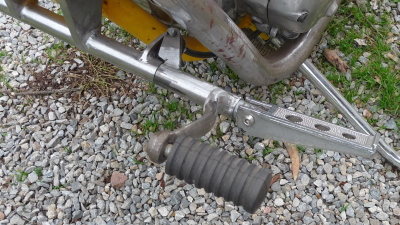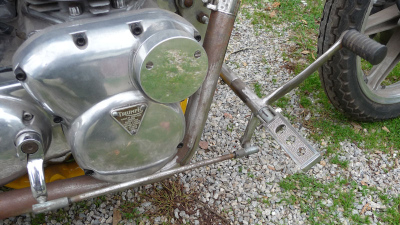 Triumph Trident brake and gear levers in mild steel prior to chromeplating, with Zodiac Anderson pegs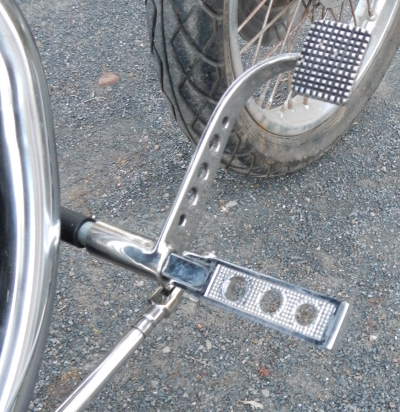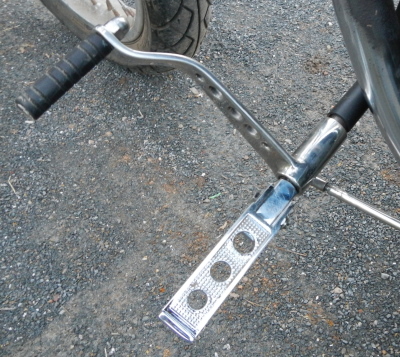 Yamaha XS250 Brake and gear levers in stainless with Zodiac Anderson pegs
You name it, we can probably do it... metre long genny shovel built to a price... now gracing a bar...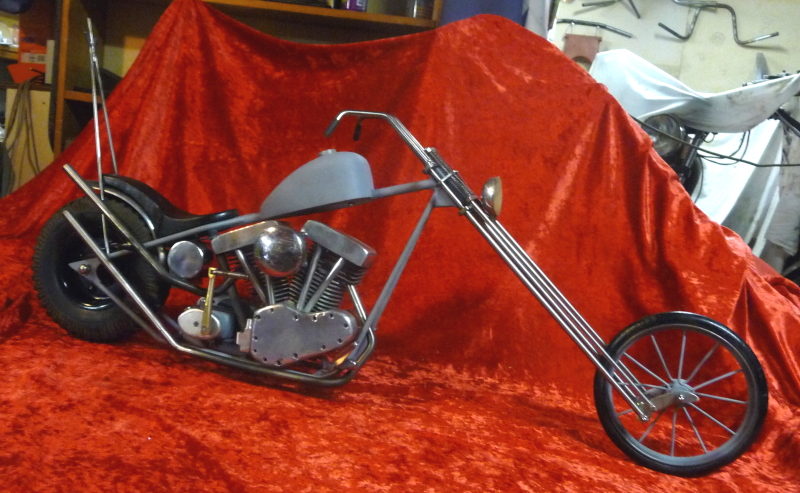 Frame moulding...
Looks fantastic, easy to clean... bigger areas covered with light sheet metal, fine finished with body putty...
Small curved polycarbonate windscreens...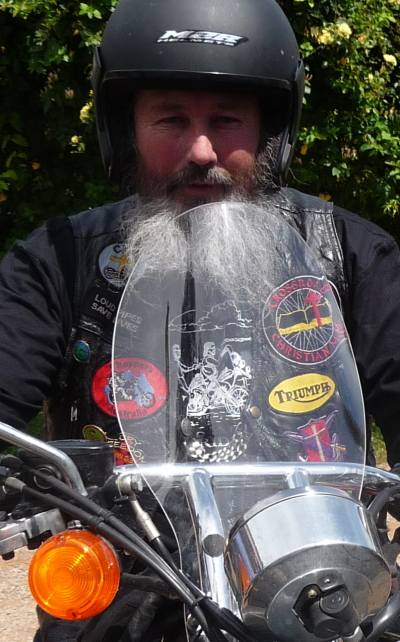 Stainless steel fasteners...
We currently stock a range of Metric 4mm -12mm, UNF and UNC button head and socket head bolts, nuts and dome nuts... 1/4", 5/16", 3/8" & 1/2"...plus s/s flat and spring, washers. Larger orders can generally be shipped within 36 hours...
S/S metric and hex head (and other fancy shapes) bolts and nylocks also available on order...
We can also clean up damaged threads such as your axles metric, Brit or American
Parts...
Steering Heads... Tapered Roller conversions for Honda CB's and XS 650's, 3 degree raked headstem bearings for HD's
Electrical... points, condensers, points plates for CB's and Harleys
Fuel... Triumph & Harley taps and bungs, Fuel filters & air filter foam
Forks... Stainless slugs
Sprockets & chain... Honda, Yamaha, HD, Triumph etc... Excellent quality Regina 'O' ring chains
Gasket sets... CB's, XS HD etc
After market accessories...
A wide range of brands, including Zodiac, Custom Chrome, Mid USA
Penrite oils for older Brit and Jap bikes and Harleys in stock..
Big variety of taillights including our own special one offs
Throttle, brake & clutch cables and fittings
Mufflers always in stock...
Cocktail...
Mini slachcut...
Turnout...
Tapered Turbo...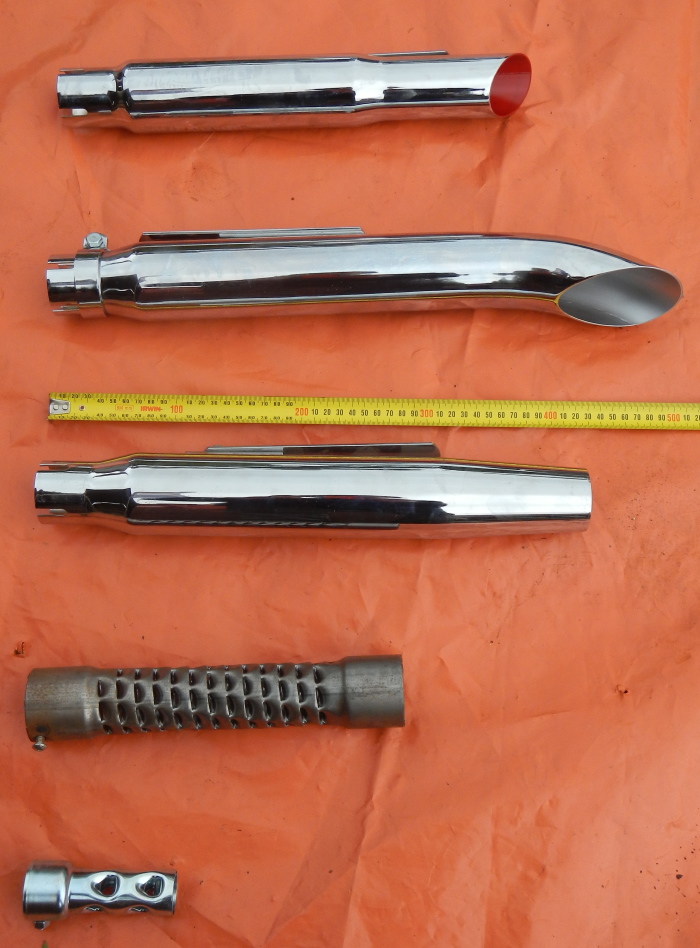 Plus I pick up any classic old style mufflers that are different, but they often a bit rusty, but redeemable with rechroming if you want something that perhaps no one else will have...
About us...
At this stage The Chopper Shed staff consists of myself (Prof) and a couple of part time guys...
I am an ex art teacher who was drawn mainly to sculpture and technical drawing. Bet you never made hot rods and choppers out of clay, fired and then painted them, when you did art... my students did!!!!
I built my first chopper in 1969-70 and rode choppers which I built, from then until now (though I was pretty preoccupied with family until more recently). I currently ride a red 1981 Harley Shovel chopped in the classic seventies style. As I rarely drive a car, my chopper is pretty well known around Adelaide. My wife rides on the back... for short or long distances, as long as the weather is not too cold!!!
I was a biker from birth.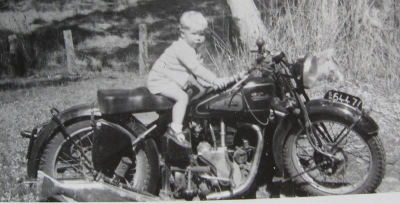 Tried to load a sidecar pic of baby Prof, but it wouldn't behave, so here's another one instead...
I grew up in the sidecar. My parents rode their bikes to work everyday and on long rides, with or without the sidecar and dad always seemed to have at least 20 bikes in his shed.
In my teens I began building choppers to ride...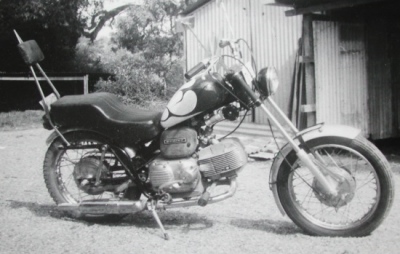 Prof's first chopper... a 350 Aermacchi, took him all over SA...
Saturdays always foud mates around to get bits made, trying trick pipes and handlebars etc... This same shed is still being used to build choppers, that's why it is called "The Chopper Shed".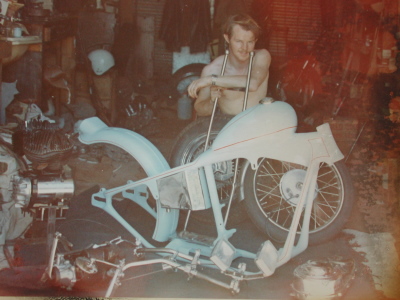 1972... and choppers again being built in exactly the same spot...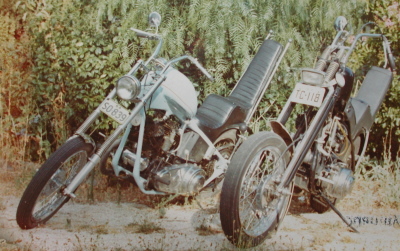 2 model U's in 1972, prof's on the left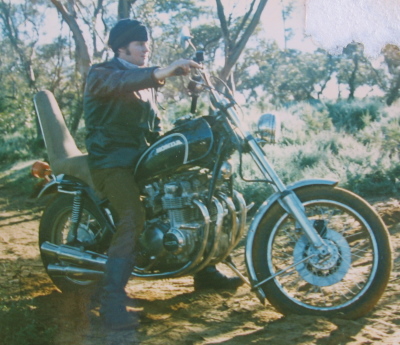 Prof in 1974... this chopper ridden with various mods to this day and now in the hands of the younger son, Paul
One of our sons rides a chopped Harley Sportster and the other son rides a chopped CB550 Honda, which I originally chopped in 1974. Under his ownership it's been modified quite a bit.
Chopper building and riding took a back seat until the kids hit their teens and wanted to ride, and I could get back into the scene, but I have been welding and fabricating and thinking outside the square all my adult life.
You can be sure no one else will have a chopper the same as yours when you come to The Chopper Shed.
Prof just back from a 500 mile run... and ready to keep rolling!
Chopper Club and website...
To help bring Aussie chopper builders and riders together, we founded Choppers Australia in September 2005. Want to see hundreds of choppers? Have a look at ... http://www.choppersaustralia.com
See our work at... http://www.choppersaustralia.com/forum/viewforum.php?f=60
Contact us...
Located 30 mins south of Adelaide...
Call Andrew (Prof)... 0428 562 554, 08 8556 2554